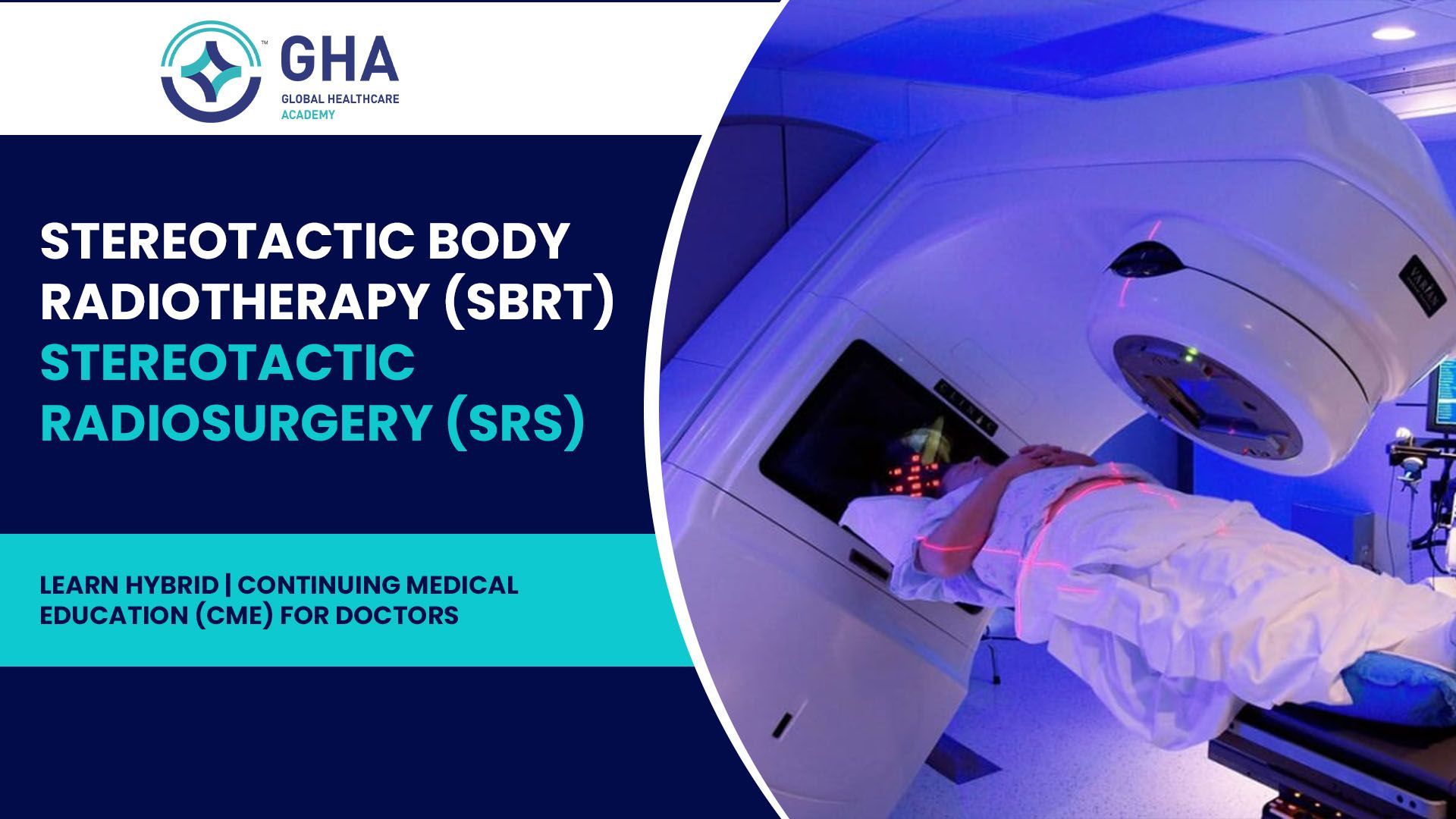 Stereotactic Body Radiotherapy(SBRT) & Stereotactic Radiosurgery (SRS)

SBRT (Stereotactic Body Radiotherapy) and SRS (Stereotactic Radiosurgery) are advanced forms of radiation therapy that deliver high doses of radiation to a very precise target in the body. SBRT is typically used to treat small tumors in the body, while SRS is primarily used for brain tumors and other abnormalities in the head and neck. These techniques use highly focused beams of radiation to minimize damage to surrounding healthy tissue, and are often completed in just a few sessions, making them an effective and convenient treatment option for many patients.
Course Mode
Online/Offline - 5days of hands on
Course Modules and Duration
08 Modules with MCQ Assessment;
45-60 Min per session
Course Certification
GHA Certificate on completion
Course Fee
₹1,18,000/- Including GST

About The Course
SBRT has been used to treat tumours of the lung/thorax, thyroid, pancreas, liver, colon, uterus, pelvis, sacrum, kidney, prostate, and thyroid. To practice SBRT, practitioners must undergo training and acquire the necessary skills.

SBRT's most important features and reported advantages compared to other forms of external beam radiation therapy (EBRT) are the use of high-dose radiation, the delivery of one to five fractions within a few days, decreasing the overall length of treatment, and improved treatment response. SBRT can be difficult to administer because of Inter-fraction or Intra-fraction movements within the body.

Hence SBRT practitioners need to undergo training and acquire the right skills to practice this procedure. SBRT can be delivered by dedicated and non-dedicated linear accelerators. Hence, hands-on practice on the equipment is also essential for aspiring practitioners. In this course, we cover all aspects of SBRT and all sites.

Learning Objective:
This course introduces stereotactic radiotherapy and radiosurgery for both cranial and extra-cranial sites. We also cover the clinical rationale, methods of planning, immobilization, and the important underlying physical principles described.

Learning Methodologies:
Online Lectures (pre-recorded and live)
Online live interactive sessions
Learning materials will be available through learning management system (includes PPTs, notes, further reading, videos, etc.)
Hands-on training
Learning Outcome:
During this program, your experience will include:
Build a team to implement and practice SBRT
Understand the technical and physical requirements for SBRT
Know the clinical rationale of SBRT and its limitations.
Understand the radiobiological basis of very high fraction doses
Know the details of indication, practice, and outcome of SBRT for early-stage NSCLC
Know the current clinical evidence for SBRT in the various clinical indications
Course Highlights:
Each module consists of 3-4 sessions (each session consists of a 90-minute online lecture), including a live interactive session with the course director and faculty and a minimum of 1 hour of self-learning through the online educational materials to be provided by GHA.
A learner must learn Module 1 (Basics of SBRT) plus at least two of the 5 optional modules.
Participants opting for all 6 modules to be covered in 09 – 10 weeks, will be offered 5 days of hands-on training at reputed training centers (Mumbai and Bengaluru).

Eligibility Criteria:
All professionals in the field of radiation oncology who are involved in the clinical practice of SBRT and cranial SRS at any point in the treatment chain: radiation oncologists, physicists, and radiation therapists (RTTs) with a dedicated focus on SBRT and SRS. The course targets individuals currently in the planning stage of establishing a clinical stereotactic program, and those who already have a current stereotactic practice.
Download Brochure For More Information
Dr. Ramesh S Bilimagga
Course Mentor
Radiation Oncologist
Dr Belliappa
Course Mentor
Radiation Oncologist
Dr. Sridhar P S
Course Director
Radiation Oncologist
Dr Lohit Reddy
Course Faculty
Radiation Oncologist
Dr Anusheel Munshi
Course Faculty
Manipal Hospitals
DR. A PICHANDI
COURSE FACULTY
DIRECTOR - CENTRAL PHYSICS
DR. MANOJ GUPTA
COURSE FACULTY
PRESIDENT ELECT - AROI