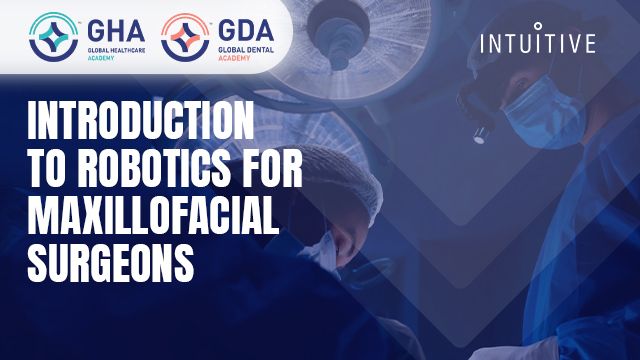 Introduction To Robotics for Maxillofacial Surgery
Robotic surgery is the most advanced form of minimally invasive surgery. A certified robotic surgeon can perform head and neck surgical procedures with enhanced precision, improved dexterity and allowing them to optimise treatment compared with traditional techniques and other minimally invasive procedures.
Course Format
Hands-On Training
Course Certification
GHA,INTUITIVE Certificate on completion
Price
Rs 20,000/- + 18% GST
About The Course
Learning Objective:
Defining the robotic surgical platform, its features, setup and organisational requirements, and

troubleshooting measures.

Developing the psychomotor skills required to safely operate the da Vinci robotic surgical platform.

Leveraging surgical case observation in defining how the robotic surgical platform is integrated into the

operating room and how the platform can be best utilized in clinical practice.

Developing clinical efficiency through comprehensive team training.

Guidance for Equivalency training / Fellowship

opportunity.
Learning Methodology:
During this program, your experience will include:
Exposure to discussions on robotic technology, human factors and surgical evaluation tools
Robotic surgical platform training
Hands-on simulation, dry lab experiences
Skill drill exercises
Surgical case observation
Development of competencies and skills to safely operate the Intuitive Surgical DaVinci Robot.
Learning Outcome:
A certified robotic Surgeon can perform Head and Neck surgical procedures with enhanced precision,
improved dexterity and allowing them to optimise treatment compared with traditional techniques and
other minimally invasive procedures. Using robotic surgery, surgeons can perform delicate and complex
procedures that may have been difficult or impossible with other methods. The journey of a certified Robotic
Head and Neck Surgeon starts with understanding and getting familiar with the advanced systems, followed
by rigorous skill drill exercises and on-site training leading to a formal assessment to be certified as a
Trainee Surgeon. After accomplishing this the surgeon with adequate experience and exposure to open
surgery can apply for dedicated proctorship program under the guidance of Senior Robotic Surgeons to
master the art of robotic surgery and to demonstrate adequate proficiency. After completing the
equivalency pathway training the surgeon is given the coveted tag of a Robotic Surgeon with permanent
credentialing to use the advanced robotic system as a console surgeon.
Download Brochure For More Information
Course Director
Dr (Prof) U S Vishal Rao
Group Director - Head & Neck Surgical
Oncology & Robotic Surgery,
HCG Hospitals, Bangalore
Dean- Centre of Academics & Research
HealthCare Global (HCG) Cancer Centre
Dr. Girish Rao
Senior Consultant
Faciomaxillary Surgeon
Dr. Anand Subash
Head & Neck Surgical Oncologist
and Robotic Surgeon &
HCG Hospitals Bengaluru
Dr. Shalini Thakur
Consultant, Department of
Head & Neck Surgical Oncology,
HCG Hospital Bengaluru